By Nicholas Tanek
Since I started listening to podcasts, I never listen to the radio anymore. I barely even listen to music in the car. Podcasts are a way for people to express themselves, connect with others, and learn something new. The kink community is huge but still somewhat "underground." Podcasting has its own community too. As an author (Your Kinky Friends), I have been on several podcasts to discuss my books.  Through one podcast (Off The Cuffs: A BDSM & Kink Podcast), a whole world has opened up for me, which led to new friends and experiences. Here are some podcasts that are essential listening for anyone who is interested in kink.
Off the Cuffs: A Kink & BDSM Podcast

As someone who is in the kink community, I can say that Off the Cuffs truly represents the scene. In little over a year, they have already gained a large and loyal following. I've been on the show twice and had an excellent time.
Max and Dick (and their friends) are cool and genuine people. (Minimus Maximus and Dick Wound like humiliation… so, f*** you! You two are filth! Filth pigs!)
I never miss an episode. The show is both funny and informative. It makes the listener feel like they are hanging out with a bunch of good friends. The beauty of this show is that it embraces a sense of community. No stone is left unturned. They are willing to talk about anything… and they do. If you think of a kink they have not discussed, they'll probably discuss it in the future.  In past episodes, they have discussed Femdom, D/s, death fetish, piss play, pay pigs, puppy play, tickle fetish, ass play, cam girls, fart porn, and more.
It's already a magnificent podcast and it's only going to get better. If you are living the kinky lifestyle or if you are just secretly interested in kink, this is essential listening.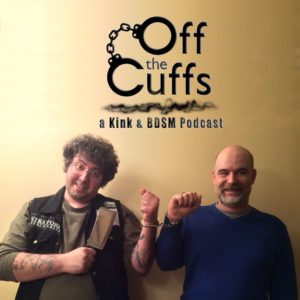 iTunes:
https://itunes.apple.com/us/podcast/off-the-cuffs-a-kink-and-bdsm-podcast/id1109249666?mt=2
Google Play:
https://play.google.com/music/m/Inesx6rfnia7wjhb3m5y4ahtq2i?t=Off_the_Cuffs_a_kink_and_BDSM_podcast
Podcast Addict or Various Android Apps:
http://subscribeonandroid.com/feeds.feedburner.com/OffTheCuffsPodcast
ProudToBeKinky Podcast
(Note: Do not use spaces when looking up the name.)
Bakji Ben and Floss are a couple from the U.K. who interview kinky people from all over the world. Like Off the Cuffs, there's a comfort level that truly represents the community in a positive way. Bakji Ben and Floss's enthusiasm for their guests and their topics is contagious. I connected with them as a kinky couple who are doing something creative together. As an American, I think their accents also add to the sound and style of the show.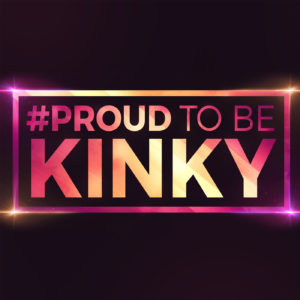 Our main website: http://www.proudtobekinky.com/
Us on Fetlife: https://fetlife.com/users/6748317
Us on Facebook: https://www.facebook.com/proudtobekinky/
We are also on Instagram (proudtobekinky) and Twitter (@proudtobekinky)
To Listen:
iTunes/Apple Podcast app: https://itunes.apple.com/gb/podcast/proudtobekinky-podcast/id1165963301?mt=2
acast: https://www.acast.com/proudtobekinky
Stitcher: http://www.stitcher.com/podcast/proudtobekinky
Soundcloud: https://soundcloud.com/proudtobekinky
Black People Kink Podcast
Dominus Blue and baby j are a charming 24/7 Master/slave couple. Although it's called Black People Kink, this podcast is for everyone. For anyone who is not black, this podcast can help them learn about the black kink experience. They are funny, smart, and cool people. One of the many things I love about them is that the listener can really tell that they are in love. On my episode, we talked about everything from old school hip-hop to the death and loss of the love my life. I even got teary-eyed during the episode.

Black People Kink (@blackpeoplekink)
Listen via GooglePlay tinyurl.com/khmczrb
iTunes tinyurl.com/mo2m2rs
Stitcher tinyurl.com/ma877gp
Tunein tinyurl.com/ktzozb7
RISK!
RISK! is not new and you may already have heard about it. It's not always about kink, but when it is, it's done right. RISK! is a storytelling show hosted by Kevin Alison (from MTV's The State). The stories are all true and very personal. Kevin has told many of his own stories about Kink Camp and his love of Asian men. Past guests have included Chris Gethard, Michael Ian Black, Lady Bunny, Margaret Cho, Kamail Nanjiani, Dan Savage, Dana Gould, Reggie Watts, Kerri Kenny-Silver, Tim Heidecker, and Maria Bamford. With only a microphone, each storyteller connects with the audience through their honesty and vulnerability. This storytelling podcast was inspirational and helped me build up the courage to write The Coolest Way to Kill Yourself. I actually write about meeting Kevin Alison in my book Your Kinky Friends. Through Twitter, I connected Kevin Alison with the Off The Cuffs guys.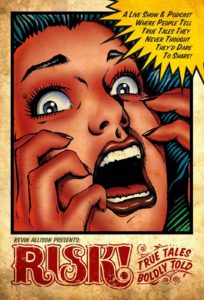 Consensually Speaking With Gio
Gio is just starting out and I was on one of his first episodes. He's a Dom with  a great sense of humor and supports the community. He has interesting guests and has become a good friend.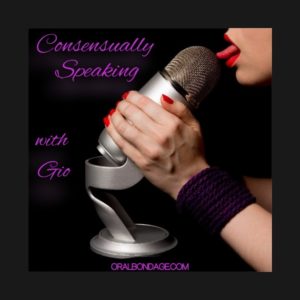 Podbean: https://www.podbean.com/media/share/pb-w28yv-7ed327#.Wi6HCTeqcLA.twitter
iTunes: https://itunes.apple.com/us/podcast/consensually-speaking-with-gio/id1281205710?mt=2
Final thoughts.
I wrote a couple of books and I wanted get on the podcast circuit to promote them. Then, something changed. A big circle of friends was formed. Everyone is promoting each other's creative projects. Some people are collaborating. Most of the local Off The Cuffs crew hung out together at TES Fest and we had a wonderful time. I look forward to seeing these podcasts become more successful and I am fascinated by the creative projects everyone is involved with. Everyone has their own issues. This is a scene of wonderful people who are doing something positive that can help all of us heal, but in a beautifully kinky way.
Some of my favorite NON-kink podcasts:
The Best Show With Tom Scharpling
[contact-form][contact-field label="Name" type="name" required="true" /][contact-field label="Email" type="email" required="true" /][contact-field label="Website" type="url" /][contact-field label="Message" type="textarea" /][/contact-form]