I am "out" as a kinky person, but many of our friends like to keep their kinky lifestyle private. Some have important jobs. Some have judgmental friends and family members. Others just prefer to keep their kink hidden. For whatever the reason, people sometimes go to great lengths to keep their kinky lifestyle hidden.
So, I asked a couple of our kinky friends about keeping their kinky life a secret. Here are their answers…
Tangled Blue
Tangled Blue is a kitten who is also an artist. She is in a DD/lg (Daddy Dom/little girl) dynamic with her husband of eighteen years. She is a good friend of mine who is funny, weird, and absurd.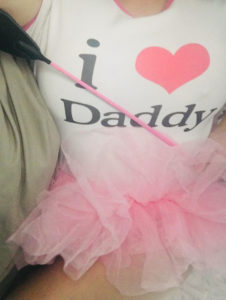 What are some of the main reasons you keep your kinky lifestyle a secret?
I really like having a hidden side of me.  It's like carrying around a secret kingdom in your mind to go to when the real world is not pleasant.  I daydream about rope, masks, costumes and sex toys.  I write scenes in my head with people who pass by me at the grocery store.  I like having a shared secret with my husband, and we whisper dirty things in each other's ears when we are sitting on his mother's couch.  Being kinky strengthens our marriage and keeps us desiring each other because our DD/lg life is exciting.   We do have careers that involve other people where our kinky behaviors are seen as depraved and morally wrong in many circles.  I like being seen as an upstanding citizen in real life and that perception would change if the world knew that I love to get whipped, gagged, and suck a pacifier.
What steps have you taken to keep your kinky lifestyle a secret?
We play only at clubs that are a good distance from our home and we do not use our real names.  I use an alias when I am online.  I bite my tongue often to keep myself from saying things that would reveal my preferences.  I have been known to ask the custodian at work to spank me with a mop handle to help me get through the day.  He thinks I'm joking (hehe).
MushMush
MushMush is a wonderful young woman who likes to explore her kinky sexuality. One thing led to another and impact play became part of her repertoire. She likes giving and receiving pain. She also was essential in creating the website Your Kinky Friends.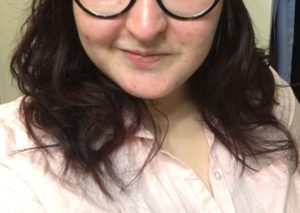 What are some of the main reasons you keep your kinky lifestyle a secret?
 I keep my kinky lifestyle a secret mostly because of work. I work in a field where my reputation carries me far. Being outed or publicly known as being kinky could complicate my career.
 What steps have you taken to keep your kinky lifestyle a secret?
 I keep my face and tattoos out of photos I post online. I am selective about who I tell about my kinky behaviors. I participate in the community and I do post photos, but I'm careful about where and how I go about it.
YoungScratch
YoungScratch is a switch who loves power exchange. Actually, he likes all types of BDSM. These days, he has become much more open to expressing himself in kink.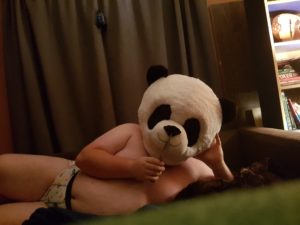 What are some of the main reasons you keep your kinky lifestyle a secret?
While I am usually quite open about my kink, I keep it a secret from bosses and family in order to keep my job and maintain the status quo respectively. In addition, I keep a couple of the darker fetishes secret in general because of shame.
 What steps have you taken to keep your kinky lifestyle a secret?
 I have a different name in kink circles so employers won't find my name attached to such things. In addition, I don't connect with any of my family on social media so they cannot see the vulgar, kinky things I say. As for my more shameful fetishes, I simply keep those under wraps with most people.
Miss Melissa
Miss Melissa is my Domme and my editor. After her miserable marriage ended, she found me on Fetlife. I was mourning the loss of Lynn. Her contributions have been essential to my books. In the five years that we have explored Femdom together, her creative energy and general attitude towards life has changed in a positive way.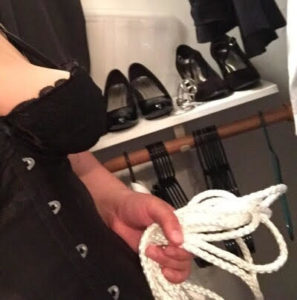 What are some of the main reasons you keep your kinky lifestyle a secret?
My kinky lifestyle is no longer a secret, but it used to be. For years, I was so ashamed of what turned me on that I didn't tell a soul and tried to even hide it from myself. Feeling like a freak kept me silent. I was so sexually repressed and my sex life with my ex-husband was so unfulfilling that it affected every aspect of my life. I was depressed, and I was no longer creative. I was unhappy for a very long time.
These days, most of my family and all of my friends are aware of my lifestyle to varying degrees, and I like it that way. It makes for interesting conversation!
 What steps have you taken to keep your kinky lifestyle a secret?
Every once in a great while, I'd go on the computer after my ex-husband went to sleep, use some download program like Kazaa (I think that was what it was called) and download gay male porn. With the sound muted, I'd sad-masturbate, quietly cum harder than I ever had with my husband (I think he only actually saw me orgasm like three times), and then meticulously delete all evidence from the computer.
He never deleted his browser history, so I knew he was into boring shit.
 And now for my answers….
Nicholas Tanek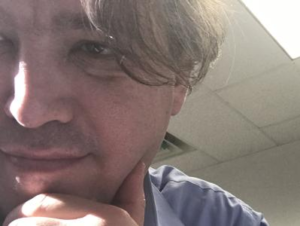 What are some of the main reasons you keep your kinky lifestyle a secret?
True love is not having to delete your browser history. I was once secretive about my kinky lifestyle, but obviously I am not anymore. I was always kinky, but for most of my romantic life, I was "light kinky." This means I would tie someone up, spank them, and have sex with them. It was just brushing the surface of kink. I was in a loveless and sexless marriage. I wanted to explore more kink and express myself. I wrote all about it in The Coolest Way to Kill Yourself. It's not always easy to start a conversation about Femdom, forced crossdressing, male chastity, and pegging. So I just said, "I want to get kinky," but it never happened with my wife. Also, there is the stigma in the workplace and with family and friends. Basically, there was a lack of confidence and a lack of self-acceptance.
What steps have you taken to keep your kinky lifestyle a secret?
Deleting browser histories was the first thing. Anyone who knows me knows that I love to talk about the BDSM and kink community. I had to make an honest effort to not bring it up in conversations. I cannot count how many times I ran back to my computer to make sure I did not leave some browser window with weird kinky porn open.
I also used to do a lot of drugs. As I look back on when I tried to keep my kink a secret, I felt like a junkie trying to hide that I was high when I was in front of people.
So, what have we learned from this?
After my marriage failed, I fell back in love with a high school fling. We became very kinky. I never deleted my browser history because she wanted to see what turned me on. Sometimes, I cuckolded her and she loved it. Other times, she would lock my cock up in a chastity device, make me wear lingerie, and then peg me. My point is that the relationship was completely honest and I refuse to live in a dishonest relationship.
There is prejudice against the kink community. Not all of us can express ourselves as kinky people because of jobs, family, or friends, but that does not mean we cannot experience our kinky fantasies in real life. There are private dungeons out there. There are discreet professional Dommes and Doms. There are people in the kink community who are active and who are willing to help. Go to munches, talk to people online, and join people in the YOUR KINKY FRIENDS chat group on Discord. We are here to help.
I am out and kinky. You don't have to be. Sexual expression is important when it comes to quality of life. There are ways to sexually express yourself and still be private and secret. Dear reader, let me ask you a question. Are you honest about all your fetishes with your current lover?  If you are not, how does that make you feel? Imagine if you could explore your weird kinky interests. It is possible. The way is through communication and honesty. All I know is that I am a better person since I have been a part of the kink community. There are ways you can be kinky without other people knowing. Always remember, kinky people find a way.
Join the Your Kinky Friends chat on Discord: https://discord.gg/uUwzVVa
Follow Nicholas Tanek on Twitter: https://twitter.com/NicholasTanek
Facebook: https://www.facebook.com/nicholas.tanek?ref=bookmarks
Your Kinky Friends: https://www.amazon.com/Your-Kinky-Friends-Nicholas-Tanek-ebook/dp/B06XRYCH7N/ref=sr_1_1?ie=UTF8&qid=1507339445&sr=8-1&keywords=Your+kinky+Friends
[contact-form][contact-field label="Name" type="name" required="true" /][contact-field label="Email" type="email" required="true" /][contact-field label="Website" type="url" /][contact-field label="Message" type="textarea" /][/contact-form]