SADISM: the tendency to derive pleasure, especially sexual gratification, from inflicting pain, suffering, or humiliation on others.
Consensual sadism is quite common in the BDSM community, but the practices vary widely depending on the participants.  Some sadists enjoy sensual sadism.  This can be defined in many ways but it loosely involves the infliction of pain  mixed with pleasure.  Both participants tend to enjoy the scene and have agreed upon terms.  Other sadists engage in brutal, violent acts that may not be sexual and fulfill a need for power.   Sadism can seem scary to those who don't understand the dynamic and question why participants get a rush from it.  I wanted to learn more about Our Kinky Friends who use pain, humiliation, and suffering in their scenes.
So… I asked some questions to my kinky sadist friends so that we could learn more about this kink.
Mistress Chloe Rose
(The Diabolical Sadist)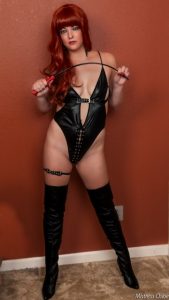 Mistress Chloe Rose is known as The Diabolical Sadist. She is a ProDomme with a Dungeon in Sacramento,Ca – Outcall to Bay 💋 Creative & Genuine 🖤 Keyholder Cuckoldress Sadist🔥Sissy & Pet Trainer☠ http://MistressChloeRoseClips.com
Describe how sadism enhances or fits your lifestyle.
Sadism, when used correctly, is an outlet. It's a creative outlet and a physical outlet. Since I laugh from sadism, it's a chemical outlet as well. Now you should never be sadistic when you're not of sound mind or angry – that is dangerous. But I have definitely used slaves I know well as whipping boys when life gets frustrating and it feels great.
Tell us about your favorite sadism experiences.
Hmmm. It's hard to choose. I'm pretty fond of predicament bondage using twine. I've come up with a lot of fun mean things. Once, I tied the nuts to the big toes so every step tugged.
Another time, I went shopping with a sub and he had a shocker around his nuts. I'd send him to the clerk for a shirt then zap him once he started to talk to her. I must have zapped him 100 times before it was over.
Psychological sadism is a favorite of mine. When you know your client well, it's not a hard game to play. Once I had a double sub scene. Both had marked forced homosexuality high on their consent forms. One sub was easy for me to control but the other was an alpha sub and a bit more delicate in the handling. I had the beta sub in a spiked cock ring. It was vicious. I plied my alpha sub's lack of masochism. I showed him the ring and told him how long beta had been wearing it. I told him I wanted to take it off him, but beta had been so naughty he had to earn it off. I convinced alpha sub he could "help" beta by allowing him to lick his cock to earn getting the horrid ring off. Let me tell you… I know forced bi is fantasized as a big stud and a sub but nothing is funnier than subs sucking each other off. They both screw their eyes shut and are soooo uncomfortable. It's delightful lol.
How do you practice safety in consensual scenes that may involve pain or humiliation?
Always use safe-words.
Gear your level of play towards the amount of familiarity with the sub. New sub? Probably better to play it safe. Sub you've had for years? Yeah, you can walk the line more.
Avoid CNC (Consensual Non-consensual) play in new d/s relationships. I feel it's common with masochism (emotional or physical) fetishes but again, you're better off building up to that.
Watch your sub like a hawk. Watch every expression, every twitch. Check in if you're not sure where they are at.
Watch out for subs who feel the need to push their boundaries when they should be safe-wording. They may be doing that to try to impress/please you or they may just be a glutton for punishment. Either way, I try to keep both of these types from going too far and teach them better.
I have a prior play consent form. It doesn't cover everything, but it does help a lot.
Mistress Chloe Rose (Diabolical Sadist) interviewed by Nicholas Tanek
(She makes me kneel on rice!)
VIDEO CHAT: Miss Chloe Rose (Diabolical Sadist) and Nicholas Tanek
Miss J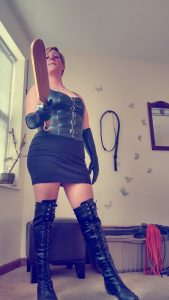 Miss J is a lifestyle and professional Dominatrix. She has been a pro-Domme for 7 years and in the lifestyle for 8 years. She is a fetishist and sadist who loves when she meets those whom she can really connect with and have fun playing with.
Her website www.missjdomina.com
Her twitter https://twitter.com/MJKitty0817
Instagram https://www.instagram.com/mistress_jkitty/
Ladies Wicked Playground http://lwpvenue.com/
Describe how sadism enhances or fits your lifestyle. 
Sadism fits my lifestyle because it's just who I am and how I get my energy out. This energy I talk about, I have never been able to get out in anything except the BDSM lifestyle. I guess you could say it's like food for me and of course I need to eat. I like to inflict pain on people with their consent, of course. I totally enjoy pain sluts who can take a lot. I also love the fact that I could really hurt someone, and they trust to put their life in my hands. For me, it's not about hurting someone to hurt someone. It's about the connection and the trust and control given to me. I have had people ask me if I get off sexually when inflicting pain on someone. I would have to say the answer is no. I get off on the power and person giving up their control to me. There are times when I play with particular people that I guess you could say I turn primal because I start to growl. I want to dig into their flesh with everything I have like I could just devour them.
Tell us about your favorite sadism experiences.
My favorite sadism experiences probably always turn to CBT, torturing cocks and balls. Specifically, I love ball busting. I love to kick, punch, and give a good cock paddling. I have used needles on cocks and balls and recently started doing saline injections into some people's balls. That's always a great time. Nipple torture is also something I truly enjoy. I always love playing with a true nipple slut. Paddling and spanking are also favorites of mine. I am particularly fond of using wood paddles on bare asses. I also enjoy mental sadism especially in a role-play scenario with someone who is into humiliation. I am a hell of a humiliatrix. I can be the meanest and most humiliating. I use my words to cut like knives. I don't always have to put my hands on someone to enjoy being a sadist.
How do you practice safety in consensual scenes that may involve pain or humiliation?
I practice safety in consensual scenes that involve pain or humiliation by always getting consent. Of course, there is negotiating and communicating a scene first. I'm not one who likes to use safe words, but I will if that's what someone needs to feel safe. Some believe that not using a safe word makes it more fun and more real. I worked in nursing a long time before getting into the lifestyle. I learned to read people and know when they are in any real distress without them using any words. A good Domme should know how to read someone's body language, take them right to the edge and call the scene before the submissive calls it. A Domme never really wants someone to call the scene or tap out because the Domme wants and should have control of that. When I am in a humiliation scene, I have to know limits for that as well because some don't want to be cussed at or called names, wear panties, spit on, yelled at. Some do. So, you really have to know who and what you are dealing with before your scene. Anyway, to practice safely, I always get consent. I negotiate, communicate, respect privacy, and establish a trust level with someone.
Video interview with Miss J
(She talks about making a shish kebab out of someone's testicles.)
Queen Blackheart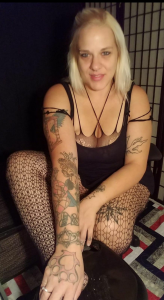 Queen Blackheart is a ProDomme, based out of Michigan with her own personal Dungeon. She is both an online-forum-based Professional Dominatrix as well as a lifestyle FemDomme. She is very educated and talented in erotic hypnosis.
FemDomme & Fetish Model | Educated & Experienced
@QueenBlackh3art on Twitter
https://iwantclips.com/store/405399/Queen-Blackheart
https://fetlife.com/users/7283858
Describe how sadism enhances or fits your lifestyle. 
In My experience as a Dominant Female, sadism has played a major role in most of My practices. As both a lifestyle and professional Dominatrix, My role is to present Myself as experienced and educated. While doing so, I need to utilize every tool in My belt for the most pleasurable experience for both parties. However, I get to do so My way. Sadism is one of My essential tools. It perfectly fits My lifestyle.
Tell us about your favorite sadism experiences.
One of My favorite experiences in which I used sadism was a real-time session with a female submissive of Mine. She enjoyed acting like a brat and was masochistic in nature. My role as her Dominant was to put her in her place and do so in an intentionally cruel manner. The more I pushed, the more she drew into Me. I started by roping her up to the eye hooks I have sunk into My ceiling. She was restrained and blindfolded. The sadism started with verbal degradation. I told her all about what a nasty little slut she was and that sluts are punished. I then began with the lashes. The punishment that she had earned. I had no mercy, and she had no desire for any. The session continued with Me using her in whatever manner I desired. I wished to see her break, but she never uttered the safe word. I was intentionally cruel and inflicted both emotional and physical pain. I enjoyed it immensely.
How do you practice safety in consensual scenes that may involve pain or humiliation?
I can answer that regarding that session I previously mentioned. In saying that I enjoyed the session is to say that the both of us got out of it what we were seeking. Before the session, her and I spoke in great detail regarding desires, expectations, hard and soft limits, and a safe word. Before any physical, mental or emotional "harm" is inflicted, it is NECESSARY to take the time to get on the same page with the person you scene with. Know your boundaries and take the responsibility that your role requires. Know your play partner and take the time to speak frankly with one another to determine limits and ultimate desires. No matter if it's soft play, hardcore impact play, or degradation, both parties should always be safe, sane and consensual.
Video interview with Queen Blackheart
So…
What have we learned from all of this?
Sadism can be controlled, monetized, and can be part of healthy sexual expression. A professional sadist dominatrix can help masochists find an outlet for their hunger to hurt in a safe and consensual way while also filling their own need to inflict pain or humiliation.
Sadists need understanding because they really aren't hurting anybody! Well, they are… but it's CONSENSUAL. A sadistic nature can be explored in a healthy and consensual way and our featured Kinky Friends do just that.  If you are interested in exploring your masochist side,  check out their links.  Believe me, these professional women know how to BREAK YOU DOWN… and you'll love every minute of it.
Facebook: https://www.facebook.com/nicholas.tanek
Twitter: https://twitter.com/NicholasTanek
Join the YOUR KINKY FRIENDS chat group on Discord: https://discord.gg/uUwzVVa