Sex shops are great! Even though many people go online to buy their sex toys and other kinky items, good brick & mortar sex shops offer much more to customers than online websites. Both serve an important purpose. People have many misconceptions of sex shops. Some think they are dirty and grimy and filled with old men jacking off in trench coats. Sure, there are some adult book stores and movie theaters where you would not want to shine a blacklight, but most sex shops have a helpful staff who can make the customer feel comfortable and educate them at the same time.
So, I asked some of our sex shop employee friends several questions. Here are their answers.
Aubri – Janet's Dungeon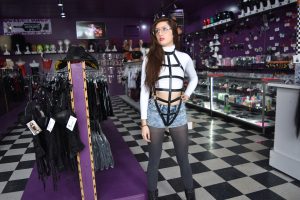 Aubri is a makeup and transformation artist who works at Janet's Dungeon in Michigan.
Aubri has been working with Janet's since October and has been their makeup and transformation artist since November. She specializes in male to female makeup and dressing. In her free-time she enjoys making art and music. She is currently working on an apprenticeship towards becoming a tattoo artist. Meeting new people and hearing new stories are Aubri's favorite part of working at Janet's. She's gender fluid, but normally goes by she/her pronouns. Her favorite food is Pho Noodles and her horoscope is Taurus.
Instagram: @janetsdungeon / @janets.closet
Twitter: @janets_closet
My personal fetlife: sonsi
What are the best and worst aspects of working in a sex shop?
The worst aspects of working in a sex shop would be the bad customers. Rarely do I see a bad customer in store. It's usually over the phone. Answering the phone to only hear heavy breathing and something along the lines of "Would you step on my cock and call me a little bitch?" really rustles my jimmies. I'll gladly talk to you about anything we sell. I'll give you advice on what to buy, but I'm not a phone sex operator. The worst thing you can do to me is waste my time. Since we are both a sex shop and a cross-dressing retail store, we have the option of trying on clothes, wigs, corsets, lingerie, and even breast forms. We always welcome that with open arms if you have the intention of buying our merchandise. Occasionally, some customers see this as an opportunity to play dress up and jack off in our dressing rooms. That's not okay. I've seen and cleaned way too much!
But the good. OH, THE GOOD! For every bad customer, there are plenty of amazing ones. To be honest, I came into the store vanilla. I didn't know much about sex outside of my personal kinks, let alone certain fetishes and the kink community. Almost every customer comes in with an amazing set of stories and a whole hell of a lot of information. Like a sponge, I soak it up. I've learned more about kink here than I have on any chat room or google search. In under a month, I felt like a "sexpert" thanks to the help of our more open customers. Out of everything though, my favorite part about working here was being opened to an incredible community that follows kink. I've heard some of the most amazing recovery and discovery stories here. The kink community has been more welcoming and judgment-free than any other community I've ever been a part of. Since starting here, I've learned more about myself and my community than I ever had before.
What are some misconceptions about sex shops? What advice would you give to someone who has reservations about going to a sex shop for the first time?
 Since we're called Janet's Dungeon, a lot of people come in here thinking it's an actual sex dungeon. It's actually a retail store. We do like to dress sexy here, however it's strictly a look but don't touch scenario. We're here to sell you our merchandise. I'll gladly sissify you with makeup and clothes, but we don't do anything sexual.
 For someone who is going to a sex store for the first time, don't be nervous! We're here to give you information and advice. We're also here to point you in the right direction. Ask questions! We'll gladly answer them. This place is meant to make you feel comfortable with your kinks. We'll gladly be with you every step of the way while you're deciding what you want and what you're looking to get into. I was nervous my first time too. We're here to help!
 What was the wildest thing you witnessed at work?
We have a regular customer who was out as a crossdresser, but never came into the store en femme. They also happened to have purchased one of our Cock Cages (in sissy pink, of course). I always loved talking to them, and they never hesitated when I had any questions kink related. Well, one day, they appeared at the store near closing. At first, I didn't recognize them under their form fitting red dress, perfect breasts, and slimming black stockings. When she approached me and told me who she was I was floored. But shortly after, she asked if I wanted to get a closer look at her make-up, so I could give her some criticism and advice. Taking her to my private makeup booth was necessary so I could check out her hard work under the bright lights. It wasn't perfect, but it was better than most women. I told her that, and she was glowing with pride. All of this was very ordinary, up until she mentioned she was wearing the cock cage. Without hesitation, she pulled up her red dress revealing not only the lacey tops of her stockings but also her contained member shoved into that sissy pink cock cage. It definitely shocked me. With a deer in headlights expression, I could only reply with a soft, "Oh, so that's what it looks like on someone." Even if it was something I didn't want to see, I just couldn't be rude because she wasn't offended about it. She replied with, "I'm sorry. I shouldn't be showing you this," and quickly hid what I saw as if it never happened. It wasn't anything that I was expecting, and now I can't look at our sissy pink cock cages without thinking about her.
---
Cynthia Brown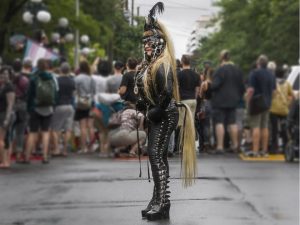 Cynthia Brown has been involved with the Fetish Community in Ottawa for over 25 years. She has shared the responsibility of running a club many years ago and has since been involved with many events. She currently owns a sex shop, but she likes to call it an alternative lifestyle store. Some even refer to it as "home."
She is the 2016 and 2017 Title holder of THE N.C.L.P (National Capital Leather Pride). 
Above is a picture of her pony gear, an outfit she wears to every Pride Parade. It was raining that day, so she was a wet pony.
She was also featured in The Ottawa Citizen. In anticipation of Canada's sesquicentennial celebrations, the Citizen's Bruce Deachman has been out in search of Ottawans — 150 of them — to learn their stories of life and death, hope and love, obsession and fear. From Feb. 2 until Canada Day, they share one person's story every day.
What are the best and worst aspects of working in a sex shop?
The worst is to have a woman cry because she does not feel sexy, desirable, or beautiful in her body. Yes, this happens often.
The best? To have a woman turn around, look in the mirror, see herself in lingerie for the first time and cry, because I showed her that she was indeed sexy, desirable, and beautiful in her body.
What are some misconceptions about sex shops? What advice would you give to someone who has reservations about going to a sex shop for the first time?
Often people think of sex shops as nothing but porn, with a sleazy, trashy undertone.
My best advice is to do research! With technology today, you can get a very good idea of exactly what you are looking for. For example, my store caters to the Fetish Community and Diva size ladies. This information is easily obtained from Google, Facebook, etc. If you are not comfortable with the store you visit, don't give up. Try another and eventually you will find the right one.
What was the wildest thing you witnessed at work?
Hmm…. I cater to the Fetish Community. There is no such thing as tooooooo wild. (WINK)
---
Nani Francis – Romantic Depot (Bronx, NY)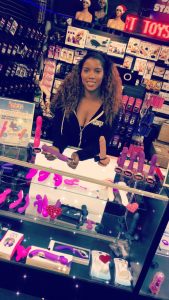 Nani Francis is the General Manager at Romantic Depot in the Bronx, NY. Romantic Depot Sexy Lingerie Stores have been serving the New York tri-state area for over 17 years. Romantic Depot Sex Toy Stores are in Manhattan NYC, The Bronx NYC, Westchester County NY, Rockland County NY & Bergen County NJ. Their sex shops have built a reputation as a trusted and reliable source for educating the community on the proper use of sex toys in a healthy way to tens of thousands of consumers in the NY Metropolitan area. 
Romantic Depot: https://romanticdepot.com/home/
Instagram: https://www.instagram.com/RomanticDepotBronx/
What are the best and worst aspects of working in a sex shop?
Well, the best aspect so far has been the feeling of self-efficacy I get when I assist our customers. Many of them step outside of their comfort zones and open up to me, a complete stranger. They tell me what exactly they're looking for in their sex lives. It truly helps me feel whole to know I provided a service and that they hopefully learned something new about themselves and their bodies that they didn't know before. The worst part, besides the occasionally rude/hard to please customer, would be getting hit on. I manage Romantic Depot in the Bronx to provide a service to the predominantly PoC community of the Bronx, not as a sexual object or outlet for people to flirt with and/or disrespect. I like to conduct myself in a professional manner. Sometimes, customers would react accordingly and not take my friendly demeanor as an invitation for unwanted advances.
What are some misconceptions about sex shops? What advice would you give to someone who has reservations about going to a sex shop for the first time?
The most common misconception, at least about our shop, is that it's going to have sticky floors and intimidating, intrusive staff members. Romantic Depot Bronx inherited the location from a previous novelty establishment that also had XXX viewing booths. From what I was told, it was not a femme or LGBT+ friendly environment. So, when people who haven't come to the location come back, they're often surprised that everything is different; the atmosphere, the decor and the accommodating staff.
For someone who has reservations about visiting a sex shop, don't worry! There is a first time for everything. Even the people who work at the sex shops sure as hell weren't born in one (most likely lol.) Come in after doing a little research on different toys… or don't. Let the staff educate you on different products, lubricants, kink items, and more.
What was the wildest thing you witnessed at work?
The wildest thing I've ever witnessed was a man come inside the store, proceed to ask me if I knew where they could find a tattoo artist who would tattoo an image of an anatomical vaginal area around their butt-hole. He followed the question by downing a whole nip of Bacardi Limon like it was a casual swig of water on a hot day. You can't make this shit up!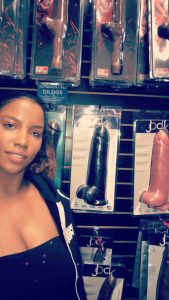 ---
Ree from Playtime Boutique, Edison, NJ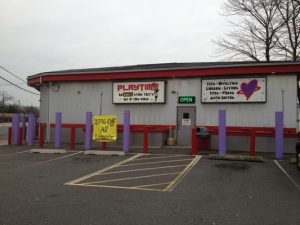 Ree works at a wonderful sex shop local to me called Playtime Boutique in Edison, NJ. They have made the place very clean and comfortable for everyone. The staff is very helpful and kind.
What are the best and worst aspects of working in a sex shop?
One of my favorite things is seeing customers leave happy. I love educating customers on certain toys or aspects of their bodies they may have not known before. It's my job to make sure everyone feels comfortable and at ease. There are no embarrassing questions and we don't judge. Some downfalls of working in a sex shop are customers who feel they can degrade, sexualize, or humiliate you, simply because of your line of work. It is a retail business first and foremost. You wouldn't ask the woman or man cashing you out at Target about what "dirty personal fantasies" they have. You wouldn't laugh and giggle about "Oh my god! Who would want to work in a place like this?!" when you see now hiring signs in Macy's.
What are some misconceptions about sex shops? What advice would you give to someone who has reservations about going to a sex shop for the first time?
Many people believe that all sex shops are creepy, dark dungeons where only degenerates frequent. That's far from the case. That may have been the case back in the day, but many sex shops break that stigma, going above and beyond to make sure you have a positive experience. We especially see women coming in for the first time saying, "Oh wow! This is much nicer than I thought! It's just like any other retail store!" We love breaking that stigma, while providing a fun, safe environment to get your kink on. If you are reluctant to go to a sex shop, my advice is going with friends, or even calling your local store to get a feel. Just remember, there are no reasons to feel nervous or embarrassed.
What was the wildest thing you witnessed at work?
Working in this kind of environment, I've seen some wild things. Some people think they can return a used, unwashed butt plug. Husbands are sometimes caught with their side pieces. Others try to bring their children/toddlers in (18 means 18 people!). I could probably write a book on wild sex shop stories. However, I'd say a situation that I'll never forget was when a guy thought it was completely acceptable to bring in his deteriorating, recently used pocket pussy. He promptly threw it down on the counter with an audible SQUISH. He started stretching and playing with it, asking if we have anything bigger for his "MASSIVE COCK" because this one just can't handle his "MASSIVE DICK." He could not stop emphasizing the fact that his package was a sizeable treasure, as if we'd throw ourselves at him, and beg for it. He just kept grossly fingering it and waving it around like some kind of trophy that he thought announced he was a real catch. Sorry random dude, but that's just sexual harassment. Not to mention, any guy with something "special" down there doesn't need to flaunt and brag about it. We firmly asked him to leave and haven't seen him, or his "MASSIVE COCK" since. Thank god.
---
Janice from Sinful Duets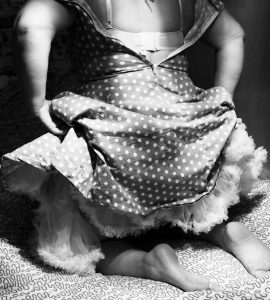 Janice runs an online sex shop called Sinful Duets. She just started but hopes to educate and help kinky people.
 Twitter: @Sinfulduets
What are the best and worst aspects of working in a sex shop?
The best thing about working in a sex shop is to pick out products and learn about sex every day. I learn about new aspects and my relationship with my husband has become more open and better sexually. We talk about sex and try a new toy or position every day. The worst aspect is that I haven't told my kids, family, and friends what I do for a living. I don't think they will understand and we live in a small community where everybody gossips.
What are some misconceptions about sex shops? What advice would you give to someone who has reservations about going to a sex shop for the first time?
It is not one type of people that go into sex shops. Sex shops are for everybody. People who work there are helpful if you want help to pick out sex toys that are perfect for you. I have experienced that sex shop workers are really relaxed about sex and you can ask them anything about the topic.  
What was the wildest thing you witnessed at work?
Since my sex shop only is online, I haven't witnessed anything wild. The only thing is that I get horny every day at work.
What have we learned from all of this?
Sex shops, adult book stores, and adult movie theaters play an important role in the kink community. A knowledgeable and friendly staff worker can be a huge influence in the way you sexually express yourself.  I was at Playtime Boutique and the woman behind the counter took her time and energy to help me pick out the right vibrator and lube. I must admit my sex life improved because of it.
There are very clean sex shops. Of course, there are also very dirty adult stores and theaters where people have sex, attend glory holes, and jerk off. Personally, I find nothing wrong with that. If everything is consensual, I do not see the problem.
As a customer, I love going to a sex shop with my Domme and my kinky friends. Not only is it always a memorable and bonding experience, but it's fun. Plus, there are some quirky and interesting people who work at sex shops. In Kentucky, I met a guy who worked at a shop who told me stories about defending himself (multiple times) with a huge fisting dildo when people messed with him while he was working.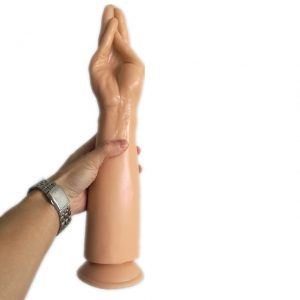 I've met an older kinky woman who schooled me on why metal chastity devices are better and should be custom made. She must have been in her 70s. She could have sold me some regular device, but she convinced me to get a custom made one. (My custom-made chastity device is awesome.)
In Chicago, there was a man behind the counter who sold melted dildos. I ended up having a very quirky conversation about melted dildos with five strangers. When I left, I thought to myself, Melted dildos is not a topic of conversation that I would usually share with five strangers, but I'm glad I had it.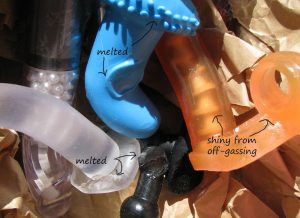 It is easy to get lost in sex toys and pornography, but it's the people who work at sex stores who can educate you and influence your sex life. I treat good sex shops like good record stores. I will make a special trip to a great shop to find that perfect vibrator, butt plug, whip, corset, ball gag, or vintage garter belt. My point is that the people who work and meet in good sex shops are interesting people and can help improve your sex life. Sure, there can be creepy people in certain stores and theaters. Some people just want to jerk off and some are in a kink frenzy that they want to indulge. But, in my experience, the people who work and/or hang out at sex shops have been wonderful and helpful kinky people. So, do yourself a favor and visit your local sex shop. For me, it has always led to an interesting experience and made my kinky sex life better.
Join the Your Kinky Friends chat on Discord: https://discord.gg/uUwzVVa
Follow Nicholas Tanek on Twitter: https://twitter.com/NicholasTanek
Facebook: https://www.facebook.com/nicholas.tanek?ref=bookmarks
Your Kinky Friends: https://www.amazon.com/Your-Kinky-Friends-Nicholas-Tanek-ebook/dp/B06XRYCH7N/ref=sr_1_1?ie=UTF8&qid=1507339445&sr=8-1&keywords=Your+kinky+Friends