by Tangled Blue
Exploring your body can be one of the greatest joys in this world.  Toys, techniques, and the power of imagination can inspire the rapture of orgasmic delight and it feels fucking incredible.  I consider myself a master of masturbation. I  play for hours edging myself until I can't hold the waves of pleasure back any longer.  Sometimes,  I sneak a quickie orgasm on a television commercial break just for fun.  My technique of choice depends on mood, need and time. I like to put a little silly fun into all my play and I think it's good to keep even self-love spicy.  
---
Wand Wailing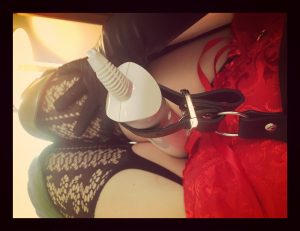 I have not been able to use the Hitachi Wand to achieve consistent orgasm, and so I decided to make playing with with this toy a game. I have a harness that can hold the wand where I want it, and I recently bought a speed modulator. This did help increase the amount of time I can use the wand without going numb, but it still didn't do much more to make this kitty purr. Vibrations only get me to the cusp.  I need penetration to spill over into bliss. I set up the game with the harness on an the modulator at my feet. The objective is to sing a whole song while I change the speed of the Magic Wand with my toes. If I miss a word, I have to start over.  I usually end up giggling and completely forgetting what I was singing. This forces me to start over and over until I get it right. Skating on the edge of orgasm is very fun and when I sing that last words, my fingers take over for an encore.
More More More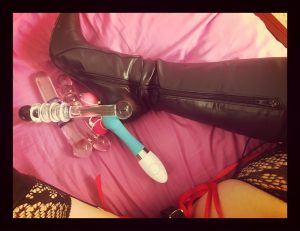 I have a decent collection of dildos and they each hold their own charm. I favor the glass ones made by Icicles.  They are made from body safe surgical glass and have lasted years. They are well worth the initial investment if you like orgasms. I usually play with them one at a time, but if I am feeling just a little extra frisky, I use more. I lay my collection out on a towel and then cum with each one as I work  down the line.  I try combinations and challenge myself. Can I cum with two? Four? The gentle clank of the glass adds a vibration sensation and the fullness adds to my pleasure.  My record is five at once. It pinched a little but the stretch and satisfaction of meeting a challenge was worth it. I'm sure this would work with anal play, too.  My butt plays better with others than alone, but I know that many people enjoy Solo Anal Play.  (That is a not sexy Star Wars game…but it could be.)
Pretty Kitty Montage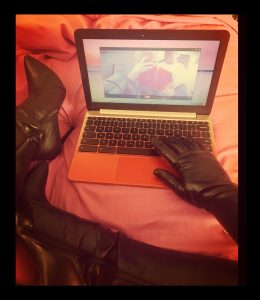 I love to play dress-up!  My favorite thing to do is to dress up in lingerie for my husband, but I usually only get to wear just one outfit for a whole evening.  When I have a free afternoon, I pull out my whole sexy sex wardrobe to create new combinations like work-boots-kitty-nurse and sailor-vampire-fluff-girl.  I have a big mirror in the bathroom and it's so much fun preen in front of in my outfits. It's almost like having a sex party with yourself when you masturbate with your reflection.  
Watch Me
Technology is incredible for masturbation, and it is a great time to be alive for exhibitionists!  I love to share images with my husband.  If I am feeling really bratty, I will send him a picture of me in the middle of the day.  I love imagining his face when suddenly my boobs pop up on his phone and maybe…just maybe..it makes him wiggly in his pants.   Knowing that my husband sees me makes me writhe like a boa eating a goat.  I know he he wants me even when we are apart and this makes my private little orgasm so much hotter. 
Exploring sex alone can be rewarding, relaxing, and mmmm…so much fun.  Being literally in touch with yourself can help you understand and embrace your sexuality.  Sex games are fun, and let me know if you try any of my ideas!